Please help Map Kibera's Covid-19 efforts by donating now via Global Giving! 
As cases of coronavirus continue to mount in Kenya, Map Kibera has launched the Kenya Covid-19 Tracker. The tracker uses Ushahidi's platform to track cases throughout the country, related news, and key initiatives underway to help citizens. Map Kibera has details on many Kibera-related resources, and is working with other organizations to include country-wide efforts to help prevent the spread of the virus and address hardships of the social restrictions.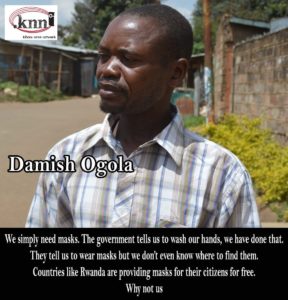 Meanwhile, the Kibera News Network team has several initiatives underway:
Covering the pandemic's effects on video, and how it is affecting people in Kibera;
Sharing out information and dispelling rumors via their WhatsApp broadcast group (to join, save +254794590404 to your phone and type us your name). Residents are asking questions to KNN about the virus, and KNN shares out daily updates on case tallies and latest government initiatives, health advice, resources, etc.
A new Humans of Kibera series with opinions and quotes from people about Covid.
Using the Covid Tracker, Map Kibera and the KNN team are mapping not only new Covid-19 cases daily, but also work that organizations and individuals throughout the country are doing to try to help during this outbreak, like distributing food and face masks, setting up hand-washing stations,  and more. Initiative leaders can also submit their own posts about what they are doing. Map Kibera is additionally mapping news items related to the virus, like articles from major new sources and tweets and social media. We are verifying all posts.
We want organizations to share their own work too using our tracker. Several Kenyan organizations are already using it to map their own work. Click here to share a resource with us!
We've set up a Global Giving fundraising page for these efforts. Please check it out here and support us if you can!