Take a look around Nairobi OpenStreetMap and a few places are really high fidelity: Kibera of course, Mathare, the UN complex at Gigiri … and now the University of Nairobi!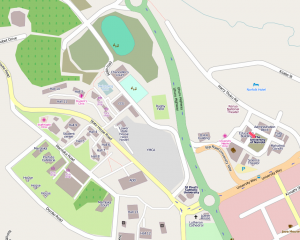 This wasn't due to a concerted effort of the core Map Kibera team, rather than enthusiasm of the growing Kenya OSM community. I met Simon Ndunda at the awesome Maker Faire Africa. Simon was a CS student at the University of Nairobi, and they needed good maps for their final software projects. I offered Simon the use of GPS through the Map Kibera GPS loan program (available to mappers in Kenya who need GPS).
This map is the awesome result.
They used the map in a couple projects, still in development:, Nairobi Sizzle, a local guide for students, and masters project in remote train control. Simon hopes to find opportunity to expand the mapping to other campus, and into all of Kenya.
We were happy to facilitate with a little equipment, and hope to find more uses for mapping at the University especially.
§ One Response to "Univeristy of Nairobi is mapped"