The 2009 Kenyan census puts Kibera's population at 170,070, very far from the usual 1 million plus figure thrown around. The scale of the change has rightly shocked people.
When we first prepared to come to Kibera last year, we looked for a source for this one million number. It was widely quoted in all the major media and even the UN, but never with a source, and we found this very suspicious. With caution, we always qualified the population number in writing and presentations with a question mark or the clause "widely quoted number". With a little more investigation, we found some quality work on this question. The Map Kibera Project (different project, similar in spirit, unintentional namespace clash) undertook a door to door survey in Kianda village, and based on the population density there, extrapolated to all of Kibera for a figure of 235000-270000. The KeyObs RESPOND project derived an estimate of the number of built structures in Kibera from satellite imagery, and then conducted a sample to estimate population per structure, and came up with a number in the range from 199,959 to 205,108. Both efforts clearly published their methodology and seemed like reasonable efforts.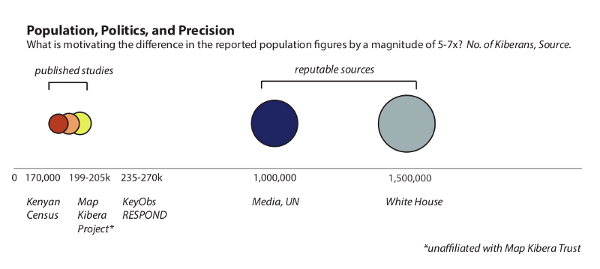 infographic by Jennifer Baranoff
Despite this, when Jill Biden visited Kibera in June, the White House reported the number jumping to 1.5 million! What motivations are there inflating Kibera's population numbers? The cynical claim is that NGOs and CBOs use the 1 million number to benefit themselves. I don't see much evidence that people are getting rich from NGOs, but then there's not much evidence at all of how much money has flowed through Kibera ineffectively. Certainly Kibera has had more attention than other places equally deserving of help, and of course it is the place we started in Kenya. Kenyan's understandably want to change the perception of informal areas. The large number of retweets I think reflects the desire of well-off Kenyans to put Kibera behind them. Despite the 1 million number falling, Kibera is still a place underserved by government, and one of many informal settlements in Nairobi and other parts of Kenya. The truth is that Kibera is still there.
In our work, somehow Kibera never felt like "1 million", and but much closer to the MKP and KeyObs number. We had been talking about replicating the KeyObs work with satellite imagery, and also counting daily out and in flux as Kiberians going to work in the industrial area and surrounding estates.
We're glad to see that light has finally fallen on Kibera's population in a big way. Certainly a revision is needed. But we're concerned with the way these new numbers from the Kenyan Census are seized on without question. The number 170,000 is at least on the same scale as previous counts, but it is relatively lower. There are no doubt issues with doing any sort of census anywhere, but especially in a place like Kibera. Definitely the Kenyan census was undertaken professionally, but part of that professional work would be openly discussing methodology and difficulties encountered. Collecting data in an informal settlement is challenging … what special measures were taken by the Kenyan census in Kibera?
The truth is that we still don't know how many people live in Kibera. It's a different number today than yesterday. The definition of "living" in Kibera varies, it's quite a transient place. Whether it's 170000 or 1.5 million, the truth of that number is intertwined with the understanding of where it's coming from. And questioning authority in Kenya doesn't come easy. One chink in the armor is exploited to cast doubt on the entire enterprise. Authority means knowing all.
We've come to Kibera fully admitting we don't know everything. Not only is OpenStreetMap always wrong, every map is always wrong, a representation of a reality which always changes. When we think about how the map and technology will be used in Kibera, we fully admit we don't have answers but are ready to engage with everyone to perhaps discuss the questions. Understanding that precision and authority is relative, that we don't understand everything, and understanding the motivations and methodology of how data is collected … all is vitally important in open data, in addition to the "precise" number or position.
… and only now noticing Brian Ekdale's excellent analysis.
§ 9 Responses to "Kibera's Census: Population, Politics, Precision"