Map Kibera has distributed election maps in Kibera and Mathare, after months of hard work planning, meeting, surveying, editing, producing, and printing. Here are the maps, linked to larger versions for download/printing if you like.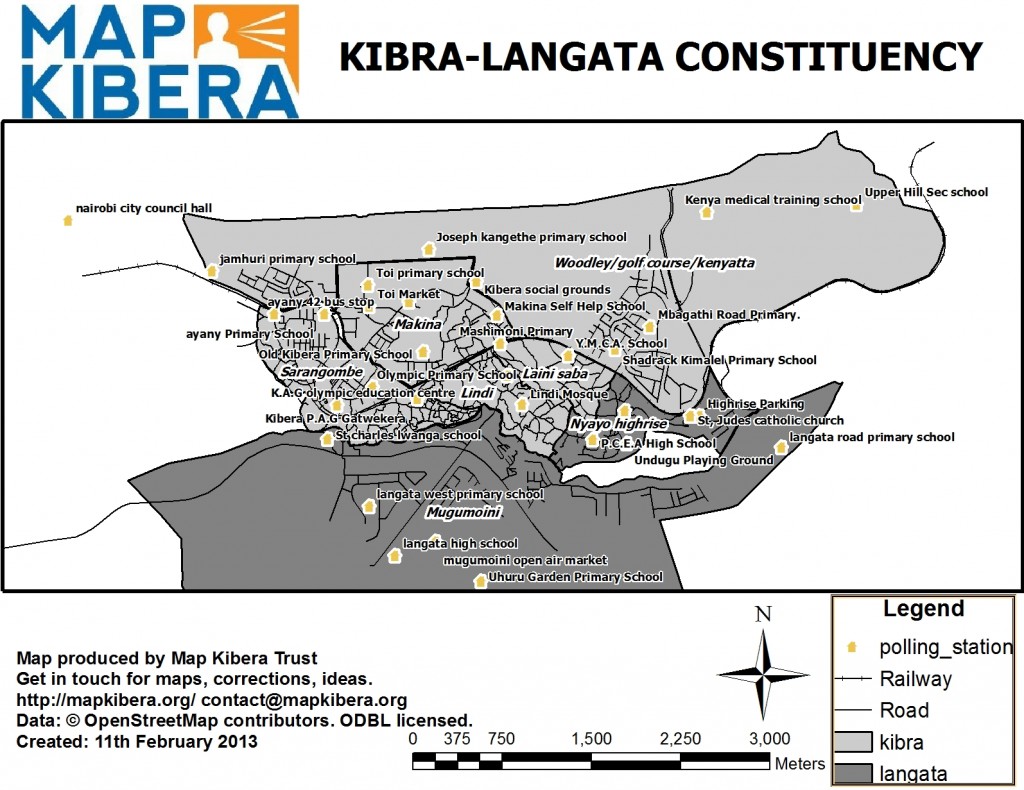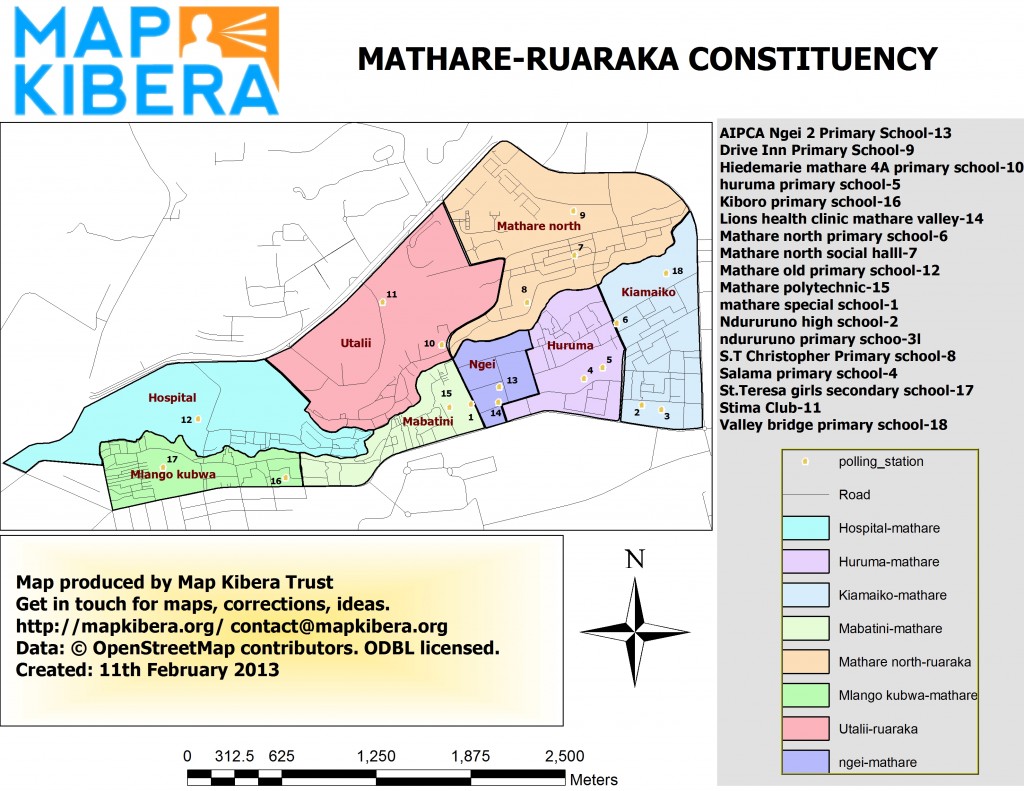 These maps are in the hands of community networks, peace building organizations, monitors, and security services. This culminated yesterday with Inspector General Kimaiyo receiving a map; essentially the top police officer in the country.
@mapkibera Big audience with all the key security officers in Kenya in Kibera. The Inspector General now has a copy of our map!

— Kepha Ngito (@Ngitok) March 1, 2013
The process began almost 6 months ago, with mappers discussing what kind of data should be collected for the election. They settled on constituency and ward boundaries, which had changed following the adoption of the new Constitution, and details on every polling place in the slums. The IEBC had officially made available descriptions and rough, non-geo-referenced images of the new boundaries, and lists of the polling places. Helpful, but since these weren't released as geospatial data, everything needed surveying by the team. The local IEBC officials were supportive of the mapping process.
(The IEBC inadvertently made some data available, which was scrapable. But it only covered to the constituency level, and almost half of the polling places in the slums were not located at all.)
Beyond the location, mappers collected details on the facility, contact information, numbers of staff, numbers of registered voters, accessibility, and closest services. They produced this form, and these JOSM presets. All of this is stored in OpenStreetMap. It's not immediately visible on osm.org, but peak behind at the data, for example Lindi Mosque.
The next step, extracting and producing Shapefiles for use in GIS, was the only point where I was substantially involved. Every other step was led by the mappers, who after three years are fully professional in their practice. The shapefiles were produced, and are available for download here and here.
Zack took the lead on map production. We've benefited from the support of ESRI East Africa, including Zack's attendance at the last user conference. He used those skills to produce two maps, then sent to the printer over the past couple weeks, and distributed throughout the community. The reaction has been wonderful.
We created tiles in TileMill, for use on Voice of Kibera and Voice of Mathare.