The two weeks I spent in Kenya in June were probably the most productive and open to possibility since the often referenced 3 weeks of mapping in Kibera back in 2009.
My goal was to lend my weight to the push off of the education mapping project in Kibera. In short, we got our act together to a tight, professional level, and drew into the process people and organizations from all levels. In four parts, the mappers and the media team developed the work plan and logistics for data collection. We organized two groups of community advisors to help guide the project and the website. We informed and gathered support from local government. And I connected with government, NGOs, the tech community, and international development organizations looking at the topics of education & data. And I helped deal with the inevitable daily minor crises that are part of the territory of working in the slums.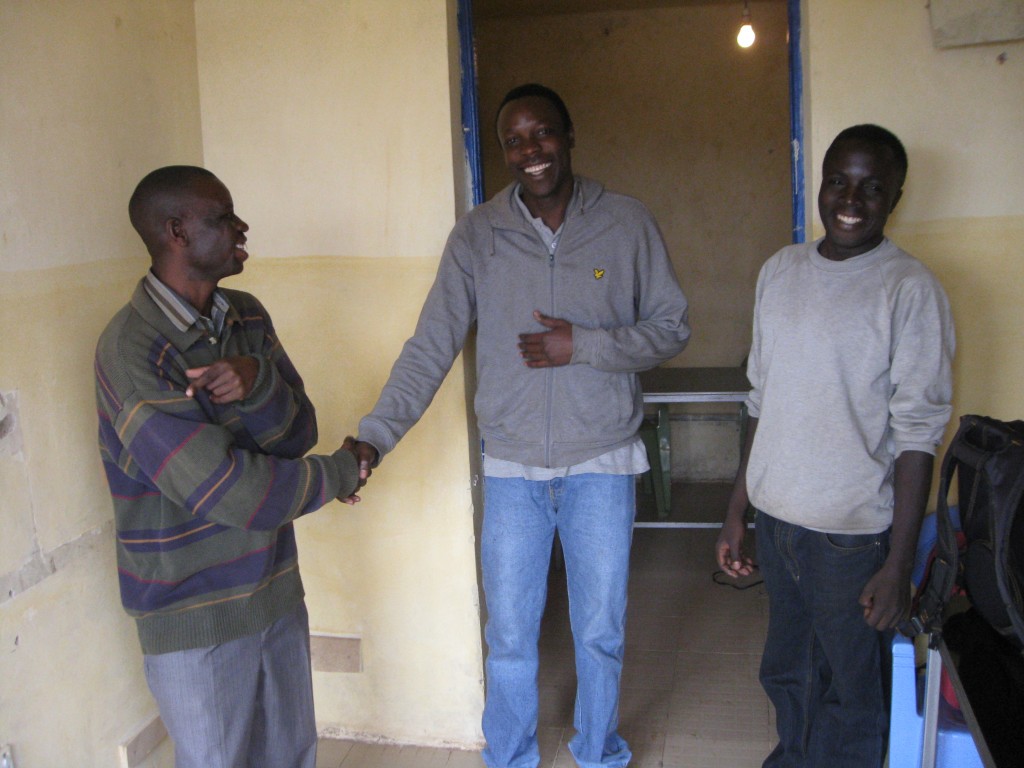 The Kibera team for this project is a focused group of 3 mappers, Zack Wambua, Douglas Namale, and Lucy Fondo; and 3 media guys, Joshua Ogure, Steve Banner, and Jacob Ouma; as well as Yvonne Tiany scoping feasibility in Mathare. We examined the landscape, estimated the work involved in recollecting approximately 250 schools, and geographically divided up the work into three teams. We hashed out the specifics of two dozen data fields for collection, got feedback from our advisory group, settled on the collection form, and preset labels in the map editor for those data fields. There were timelines, contracts to sign, facilities to arrange (Kibera office and iHub), and we started a weekly coordination call on Fridays. The was all easy with our experienced crew.
We were eager to check that we were on track with parents and school heads. We held two focus groups, one with school leaders (at our frequent host Mchanganyiko) and one with parents. Most of these folks had already been introduced to, and interviewed for, the project by Joshua, so we could quickly get into details with the presentation and hands on demo of the Open Schools website that we are building. GroundTruth and Development Gateway have been working hard on the basic beta website structure, but had lots of questions on real usage. The energy levels cranked up when they got to use the website itself, real excitement. I hovered and wrote pages of user observations. This led into a very productive dialogue about the project as a whole.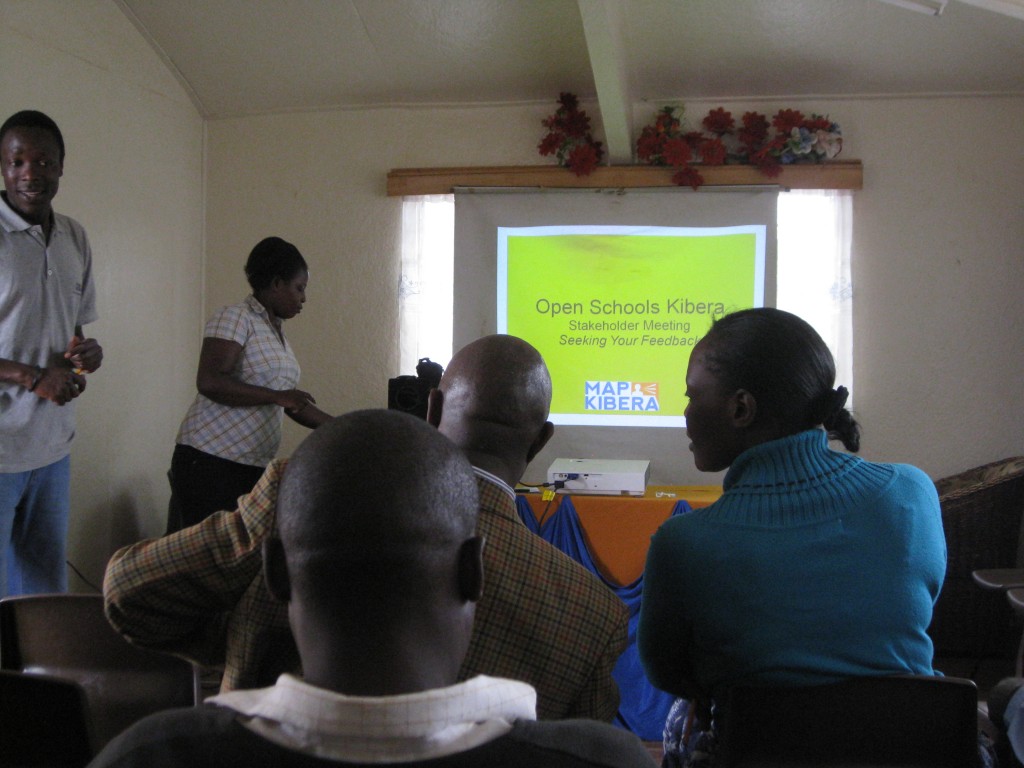 For local government officials, we drafted a formal letter informing on the crucial details of the project, and requesting their support. Happily, the reputation of Map Kibera helped us to secure meetings with these busy individuals, they all gave us signed & stamped support, and expressed genuine interest in the outcomes of the work. It's important that the administrators and representatives are informed and consulted early in the project. Their support helps assure schools that we are managing the information collected responsibly. We sincerely hope the data will be of use to the Honourable Member of Parliament for Kibra, the Assistant County Commissioner, the County Education Director, the District Education Officer, and the Chief of Saran'gombe.
In my "spare" time, I managed to meet with representatives from various NGOs and international organizations. Fascinating chat with USAID about previous schools mapping. Sharad Sapra from Unicef set some lofty goals for our work (think continent sized). It was great to connect with Concern Worldwid, who are already using our data, and have data on informal schools we can use. Had a whirlwind discussion with Innovations for Poverty Action about half a dozen points of connection. Interesting to check out the operation and insights of Bridge Schools. Promising discussion of mapping with Peace Corps Kenya. Open Institute was generous as ever with their efforts, especially looking at the role of devolution. Had a last minute dinner with Ashoka education innovators. And on top of these, great catching up with friends and exploring everything with Erik Hersman, Matt Berg, Sasha Kinney, and Mark de Blois.
We have lots more to expand on with all these threads. Thanks to everyone for a fulfilling and promising trip. I came away convinced that our approach is needed and our focus on education is timely, and that this project will be of service to improve understanding of education in Kenya.
§ 2 Responses to "Working Strong with the Team in Kibera"